Kyle Barton, the head golf course superintendent at Tam-O-Shanter Country Club in West Bloomfield, Mich., has only been a GCSAA Grassroots Ambassador less than two years, however he has already made an impact both nationally and locally. Continually thinking about how he can improve himself, his staff, the golf course and the industry, Kyle jumped into the ambassador program with both feet; and he hasn't looked back.
The GCSAA Grassroots Ambassador program matches a member of GCSAA with each member of Congress. The goal is to build strong relationships between them and establish a network of committed volunteers to serve as the "go-to" people for lawmakers and their staff on golf course management issues. Michigan GCSA (MiGCSA) chapter executive Adam Ikamas, CGCS, a 21-year GCSAA member, initially reached out to Kyle regarding the Grassroots Ambassador program. "Adam asked me if it would be something I would be interested in," Barton says. "He knew I was eager to get involved with the MiGCSA and/or the GCSAA. I gladly accepted and my journey as a grassroots ambassador began."
Earlier this year Kyle, an 11-year Class A GCSAA member, as well as the chairman of the MiGCSA Government Relations Committee, participated in the national service project and attended National Golf Day. While volunteering in the national service project, Kyle was one of over 200 volunteers from the golf industry who helped beautify and improve over a dozen areas and monuments around our nation's capital.
Following the national service project, Kyle met with four different members of congress and/or their staff members from the state of Michigan during National Golf Day. Discussing the economic and environmental benefits golf courses bring to communities, Kyle also discussed areas which affect the golf industry, such as the PHIT Act, H-2B and WOTUS, to name a few.
Not to be outdone on the national level, Kyle has taken his passion to the state and local levels, as well. Michigan now has every one of its Grassroots Ambassador positions filled. Kyle was instrumental in filling these positions. He personally reached out to other GCSAA and Michigan GCSA members – and through his contagious passion – was able to recruit and fill the remaining Grassroots Ambassador positions in the state.
Through the ambassador program, Kyle is officially paired with Senator Debbie Stabenow. After multiple attempts, Kyle was successful in having a staff member from Senator Stabenow's office come out for a course visit where golf and its relationship with the environment was one of the main talking points.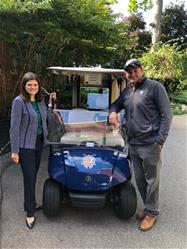 Kyle resides and works in Michigan's 11th Congressional District which is represented by Congresswoman Haley Stevens. While continually advocating for the industry, he has also formed a working relationship with Representative Stevens. "I just kind of jumped right into it," Barton says. "Congresswoman Stevens represents my home district so we started off with a lot of common ground. Through that I have been able to get more in depth about all the benefits golf carries."
In early September, Kyle invited Representative Stevens to Tam-O-Shanter to tour the course and see firsthand what goes into maintaining the property. I was lucky enough to be invited along and I can't say enough about the success of this visit. Wrapping up her "24 Towns in 24 Days" event series, Rep. Stevens, staff member Eli Isaguirre, Kyle and I toured the golf course and had great conversations regarding on- and off-the-course issues, as well as environmental programs and conservation efforts of golf course superintendents.
"As a Member of Congress, I appreciate hearing from constituents like Kyle who are engaged in advocacy and are a resource for me and my staff in the district," says Representative Haley Stevens. "With the third highest amount of golf courses in the country, the Michigan golf industry continues to play a critical role in the state's economy and I was excited to learn more about golf course management."
The four of us also touched base on GCSAA programs such as The First Green and implementing best management practices documents in all 50 states by 2020. "Through programs like the First Green, which stresses the importance of STEM education, and environmental stewardship, the Michigan golf industry is taking a proactive approach to solving today's labor and natural resource challenges," says Stevens. "I was particularly impressed by Kyle's use of technology which guides many of his management decisions and helps to conserve resources. I applaud the work of golf course superintendents across the state and look forward to future engagements with them."
I want to personally thank Representative Stevens and Eli for taking the time to come out to the golf course. It was truly a privilege to create a relationship with them both and discuss our great industry. I want to also thank Kyle for setting up the meeting. Through his efforts, he represents GCSAA and MiGCSA members at the highest professional levels and continues to advance the golf course management profession.