J. M. Vargas Jr., Ph.D. recognized for his 50 years of service to Michigan State University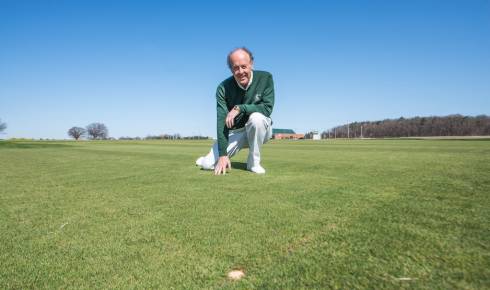 Dr. J. M. Vargas Jr. received his 50th year gold pin on October 8th, 2018 recognizing his years of service to Michigan State University. He has been a professor of Plant, Soils and Microbial Sciences at Michigan State University for the past 50 years where he has been involved in teaching, research, and extension. He has published over 100 articles on turfgrass diseases and related subjects. He has given over numerous presentations at various turfgrass conferences throughout the world including Australia, Argentina, China, France, Germany, Ireland, England, Mexico, New Zealand, Malaysia, Spain, Austria, Japan, Korea, Portugal, Dubai, Slovenia and South Africa. He has also published the most widely used turfgrass disease book entitled "Management of Turfgrass Diseases" and co authored two other books "Poa annua: Physiology, Culture, and Control of Annual Bluegrass" and "The Turf Problem Solver".
A few of the many awards that Joe can be acknowledged for include:
Michigan Turfgrass Foundations Meritorious Service Award (1996)
Greater Detroit Golf Course Superintendent A. A. Distinguish Service Award (1996)
GCSAA Distinguished Service Award (1997)
Lawn and Landscape Magazine's Leadership Award (2001)
National Turfgrass Foundation Research Award (UK) (2002)
USGA Green Section Award 2007
Inducted into Michigan Golf Hall of Fame (June 2015)
The MTF, its members and all those in the Turf Industry are proud to include Dr. Joe Vargas as one of our most honored Turf Team Professors ever at Michigan State University. Congratulations, Joe, from all of your friends.