Leader of the band: John R. Fulling Jr., CGCS
Keeping the green and keeping the beat are dual passions for John R. Fulling Jr., CGCS, and now the superintendent and drummer will set the pace for GCSAA as its 2020 president.
March 2020 | Scott Hollister, GCM's editor-in-chief.
If there have been two constants in the life of John R. Fulling Jr., CGCS, two pillars on which everything else has been built, they are music and greenkeeping.
The former has been a part of his life for as long as the 53-year-old Fulling can remember, even if the details about when he picked up his first set of drumsticks — his instrument of choice — are a little fuzzy. "I have no idea, really," he says. "I mean, I think I was 7 or 8 years old, taking private lessons. But I don't ever remember bugging my parents for drums or hearing a particular song that made me want to play."
The latter hasn't been with him quite that long, but it's not too far off. Fulling got his first job on a golf course while in high school in Rockford, Ill., which set him on a path through the turf program at nearby Kishwaukee College, to an internship at Medinah (Ill.) Country Club, and, eventually, to his current position as the grounds and facilities manager at Kalamazoo (Mich.) Country Club, a post he's held since 1993.
As Susan, his wife of 27 years, likes to say, "Golf is such a part of him, I don't think he'll ever retire. He'll probably just die someplace out on the golf course. They're going to call me and say, 'Do you want us to bury him right here or would you like to come get him?'"
But when you ask Fulling whether he sees any obvious connection between being a good drummer and a good golf course superintendent, he doesn't really take the bait. Sure, playing well with others and working as a team are as important in a band as they are in a maintenance facility. But as Fulling sees it, that's as much coincidence as anything else.
The science, however, suggests otherwise. According to a study at Sweden's Karolinska Institute, there is a direct link between the brain structure used to keep time and the structure used to solve problems. Individuals who were better at tapping out a steady rhythm with a drumstick were also better on a variety of problem-solving tests, were better planners, and were better managers of their own time.
Sound like any turfgrass professional you know?
It certainly does to Heath Bronkema, and there are few better positioned to judge those similarities in Fulling. For the past 14 years, Fulling has been the drummer in The Bronk Brothers, a country band fronted by Bronkema and his brother, Brian. And since 2009, Bronkema has worked for Fulling at Kalamazoo CC as the club's equipment manager.
"I think there is plenty of crossover between music and greenkeeping, especially with John," says Bronkema, an 11-year GCSAA member. "In the band, he really is the glue that holds us together. Typically, he starts the song, and typically, he ends the song. And in between, he's the guy that's making sure we're on time, on beat. And if you look at the golf course, he's doing a lot of the same things. Keeping us on track, making sure we're making progress and getting things done."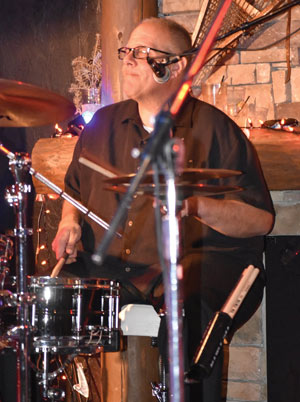 Right: Fulling playing with The Bronk Brothers.
For most of Fulling's career, all of those common characteristics — the drive, the determination, the desire to lead the way — have been apparent to fans of The Bronk Brothers, the members at Kalamazoo CC and those with whom Fulling has served in the Michigan golf industry. But it wasn't until 2013, when Fulling earned a spot on the GCSAA Board of Directors, that he began to lay down a beat for others to hear on the national level. And this year, as Fulling serves as GCSAA's 84th president, that influence will reach its natural crescendo.
"John's passion and dedication for this business is undeniable," says Rafael Barajas, CGCS, GCSAA's 2019 president. "I saw that firsthand in the years we've served together on the GCSAA board, and I know his colleagues in Michigan have seen that throughout his long career. I'm excited to see him bring that to the role of GCSAA president and the positive impact it will have on the association."
Working for a living
Whether you've heard their music or not, don't mistake The Bronk Brothers for just another cover band. Sure, they do covers, but they also have a large catalog of original material, two full-length albums to their credit, and an active touring schedule that, in previous years, has included opening for the likes of Charlie Daniels, Dierks Bentley, Kenny Chesney and the Zac Brown Band. At its most active, the band played over 120 shows a year, from Michigan through the Midwest and into Texas.
It's a track record that would prompt some to ask whether Fulling and his bandmates ever regretted not making music their full-time gig. When he hears that, Fulling generally just smiles, shakes his head and makes an analogy those in the golf industry can relate to.
"At least for me, the difference between what I do and what a full-time, professional musician does is like the difference between a club pro and a touring pro," the 30-year GCSAA member says. "And I don't say that to disparage what I do on the drums. But while most club pros are really good golfers, the gap between them and the guys on Tour is pretty substantial. It's the same for me and my music."
It's a level of self-awareness that Fulling has possessed since college. He did study music at Northern Illinois University in DeKalb, with a dream of one day turning pro. But he quickly realized the odds of that becoming a reality were long, and that no matter how much he loved it and how prolific he might become, it was unlikely that music was ever going to completely pay the bills.
Fortunately, he had a Plan B: golf course management. Despite growing up in a household where neither his father, John Sr., nor mother, Nina, played any golf, Fulling began working at Rockford's Forest Hills Country Club in high school, stayed on during the summers while he was studying at Northern Illinois, and eventually used those experiences as a springboard into the business.
"One of the assistants at Forest Hills at that time, a guy named Glenn Smith, had just gone to Kishwaukee College … knew I was trying to decide exactly what I wanted to do, and suggested I check out the turf program there, see if it was right for me," Fulling says. "I looked into it, really liked the fit, so I went."
Does Fulling ever regret not committing to music full time? "No, never," he says emphatically. "Golf was never a second choice. It was simply my other thing. It ultimately gave me the best of both worlds. Instead of struggling to be a musician and not having this other thing I loved, I chose a path that gave me a great life, provided for my family and allowed me to do two things that I love my whole life. It turned out to be the best decision."
Learning to fly
You never know when a professional opportunity will come knocking. For Fulling, his big break came during a field trip.
Midway through his first year in the two-year program at Kishwaukee, his class took a trip to nearby Chicago to visit a few golf course operations. Included among them was famed Medinah Country Club, where longtime superintendent Danny Quast, now a retired CGCS, was just beginning his tenure at the club. Before the students boarded the bus for the return trip to Kishwaukee, Fulling got up the nerve to approach Quast with a bold question.
"I just happened to be talking to him, so I said, 'You know, I'm looking for an internship and would really love …' And he pretty much stopped me there and said, 'Yeah, you're in.' And that was that," Fulling says.
Fulling ended up doing two stints as an intern at Medinah and then landed a full-time position there after he graduated from Kishwaukee. He ultimately spent five years at the club, helped prepare the No. 3 Course for the 1990 U.S. Open, and, buoyed by the wealth of professional experience he gained there, left in October 1992 for his first head superintendent job, at Berrien Hills Country Club in Benton Harbor, Mich.
He also left Medinah with something a little more personal — a fiancee. "My last day at Medinah was Oct. 9, and Susan and I got married on Oct. 10 in Rockford, at Mauh-Nah-Tee-See Country Club," Fullings says. "The next day, we left for Miami for a four-day cruise, and when we got back from that, I got in the car and drove to Michigan to start my job at Berrien Hills. It was as much of a whirlwind as it sounds."
Home sweet home
Steve Hammon, the GCSAA Class A superintendent at Traverse City (Mich.) Golf and Country Club, has been friends with Fulling going on three decades now, both men fixtures in the Michigan golf scene and extremely active at the chapter level in the state.
But friendship seemed an unlikely outcome to their first interaction. Early in their careers, the two men unwittingly squared off as finalists for the same job — the head superintendent position at Kalamazoo CC. Hammon and Fulling hardly knew each other at the time, and there have never been any hurt feelings over the fact that the job ultimately went to Fulling, at least as far as Hammon is concerned. Still, he agrees it was a pretty unique way to start a friendship.
"John got the job, and I didn't," says Hammon, a 31-year GCSAA member. "The way it's all worked out, though, seems like it was meant to be for both of us."
Indeed. Not long after coming in second for the job in Kalamazoo, Hammon landed the job at Traverse City G&CC, and he has been there ever since, 23 years in total. Fulling, too, has been a staple at Kalamazoo since taking over that job, a run that is now in its 26th year.
The fit in Kalamazoo — with both the community and the club — was obvious to Fulling from the very beginning. "There's a reason that I'm just the fourth superintendent in the 100-plus-year history of the club," Fulling says. "It's because of the area, the people here, how supportive they are. It's a great membership, and I don't know how I would ever find anything better."
The feeling is mutual from those within the club. General Manager Andrew Tkach has been in his role at Kalamazoo CC for just under two years, but he sensed Fulling's dedication to the club and the membership's fondness for him during his very first visits.
"When you see such a history of longevity at a club with its key employees (PGA professional Dick Stewart spent 40 years with the club before retiring in 2019, for example), it says a lot," Tkach says. "John's dedication and commitment to this place is just off the charts. People around here trust his commitment, and because he's instilled that in the people that work for him, that trust extends to them, too."
Come together
The level of commitment that Fulling shows toward Kalamazoo CC, The Bronk Brothers and his service to GCSAA at both the state and national levels is admirable, to be sure. But as he readily admits, it can come at a cost.
"I'm one of those people that every minute of my life, I am supposed to be somewhere else, doing something else," he says.
"He always has a million irons in the fire, absolutely," Susan Fulling says. "Really, both of us are exactly the same way, and we raised children that are the same way. And it's not just the club and the band and his GCSAA work. He's been a Shriner, a Mason; he's always been very involved with our children in their schools. We've always been a very involved family, and John has always led the way."
The frenetic pace and sleepless nights do pay dividends, of course. There are accomplishments and triumphs that otherwise would not have been achieved without that level of effort. In Fulling's case, the best example of this might be the role he played in bringing a statewide Michigan GCSA into existence, an effort that served as a springboard of sorts for his volunteer involvement with GCSAA at the national level.
In 2008, superintendents in the state's four independent chapters — the Northern Michigan Turf Managers Association, the Western Michigan GCSA, the Greater Detroit GCSA and the Mid-Michigan Turf Managers Association — voted to merge into a single statewide chapter affiliated with GCSAA.
The merger received 90% approval from individual members and capped an effort that had stretched for nearly a decade.
The final result, though, doesn't hint at the arduous journey that it took to get to that point, or the investment that champions like Fulling ultimately put into the effort. As current Michigan GCSA Executive Director Adam Ikamas says, "There's no way I'm doing this job or that we even have a statewide association in Michigan without John. There's not even a 1% chance that this happens without him. That's just how dedicated he was."
GCSAA TV sat down with John R. Fulling Jr., CGCS, to discuss labor challenges within the golf industry and more:
From the start, detractors of a Michigan merger were plentiful, and they were vocal. "The pushback from the beginning was pretty significant," says Hammon, another advocate of the statewide chapter who worked closely with Fulling throughout the process. "People worried about losing local events, about dues rising, about what would happen with their newsletters. A lot of misinformation out there, so we just had to clear one hurdle at a time, then focus on the next one."
Slowly, though, the idea gained traction. Members began to see the myriad benefits that a statewide chapter could generate, and that those gains would not come at the expense of what had made the individual chapters special to begin with.
"John always has a vision, he knows how it's going to go, and you can trust that vision, and that was the case here," Ikamas says. "It's a great quality to have. You just have to know that John already knows how the movie ends, even if you don't, and just trust that you're going to enjoy it."
"You've got to have a champion. You've got to have … that person that will do anything, at any time, and never give up because they know they're doing the right thing," Fulling says of his role in that effort. "The most hardened detractors are going to test your resolve all the time, but you just have to stay confident in what you're doing."
The impossible dream
To be fair, being the driving force behind the creation of the statewide chapter in Michigan wasn't the only factor in Fulling's ascension to the GCSAA Board of Directors in 2013. It might have been among his crowning achievements, but he already had a long history of industry volunteerism that included presidencies of the Western Michigan GCSA, the Michigan Turfgrass Foundation and, later, the new Michigan GCSA, not to mention numerous stints on GCSAA committees and task groups.
"What can I say? I'm a glutton for punishment," he says with a laugh.
But Fulling is clear that the lessons learned during the march toward the Michigan GCSA informed much of what he has brought to the table during his years of national board service.
"First, I learned how to think big, that nothing is impossible," Fulling says. "I learned that even if you get your teeth kicked in a little bit, if you believe in something, you can make it through, and those same people who criticized you can ultimately come to respect you. And I learned the value of strategic thinking and just how beneficial that can be."
As for how all of that figures into his 12 months as GCSAA president, Fulling definitely has goals not only for himself, but for the board and the association as a whole (see "The long run: John Fulling's plans for the GCSAA presidency," below). Much of that has to do with setting the stage and strengthening the association's foundation so that future leaders can build on successes and drive GCSAA forward.
And when all of that is said and done, when his many decades of service to GCSAA and the golf course management industry have come to an end and this chapter of his professional life closes, don't think for a minute that Fulling will return to just being the superintendent at Kalamazoo CC and the drummer in The Bronk Brothers. Susan Fulling guarantees you won't find him kicking back and resting on his laurels.
"He'll find something else. He always does. He has that drive to keep giving back, so he'll find something else that he feels passionate about and put his energy into that," she says. "He'll keep striving to make the industry better and help the people that need help. I can't see him ever not being that kind of person."
---
The long run: John Fulling's plans for the GCSAA presidency
The life and career of John R. Fulling Jr., CGCS, have been a testament to the long game, to the value of commitment and persistence.
Fulling has served as the golf course superintendent at Kalamazoo (Mich.) Country Club for 26 years. He has a decades-long track record of service to the Michigan golf industry, including a role as one of the driving forces behind the creation of the statewide Michigan GCSA. At home, Fulling and his wife, Susan, celebrated their 27th wedding anniversary last fall. For the past 14 years, he has been the drummer in an active, touring country band — The Bronk Brothers — playing shows all around the country.
In Fulling's world, overnight successes are the exception, not the rule. That's why he's not spending much time focusing on hard-and-fast goals for his one year as GCSAA president. His efforts, not surprisingly, are instead focused on the long haul and building a legacy and a strategy that can help guide the association for generations to come.
"There's only so much any of us can hope to get done in a year, even with all the support and help in the world," Fulling says. "That's why, if I had one goal, it would be to help leave a structure that is strategic in thought, business-minded and forward-thinking for the benefit of the members of this organization. No more one-offs. We have to be a fluid, always-moving, ever-changing but very consistent and open board. That's how we'll achieve long-term success."
Fulling started small in those efforts. Throughout the past year, he chronicled his year as GCSAA vice president and communicated what he learned and experienced to those most likely to follow in his footsteps — Mark Jordan, CGCS, 2019 GCSAA secretary/treasurer, who was elected vice president during January's Golf Industry Show in Orlando, Fla.; and Kevin Breen, CGCS, who was elected secretary/treasurer in Orlando — all in an effort to set a solid foundation for the future.
"I've been sharing things like what meetings and events I went to, what people I met, the reasons behind it all," Fulling says. "These aren't big decisions or strategic things we're talking about. It's just an attempt to help each other be the most prepared we can be, so everybody knows pretty much everything and keeps the surprises to the absolute minimum."
Fulling is convinced there are existing GCSAA programs and initiatives that will have key roles in the long-term success of the association, so he admits he'll keep close tabs on efforts such as GCSAA's best management practices initiative and First Green educational program.
"In terms of potential and the positive impact that they can have on the golf industry, I really believe the BMPs and the First Green are huge," Fulling says. "From the BMP standpoint, it's an effort that is putting our industry in a different light with legislators. It gets us a seat at the table and builds really positive awareness that our members and this industry do the right things and can be leaders. And there may even be more potential with the First Green. From the very first visit, you can see a change in the perception of golf, a recognition of the value the game delivers and of the possibility that there are careers in this business.
"Those two have such great, long-term potential to build the kind of legacy that we all want to build."
---
Scott Hollister is GCM's editor-in-chief.