The Most Passionate Man in S.W. Michigan Golf Has Died
By Pat Moody | Posted December 5, 2018 |
www.moodyonthemarket.com
Eau Claire's Bruce Dustin was so passionate about the game of golf…so dedicated to it…so consumed by it that even as he owned and operated his own golf course at Pipestone Creek, he spent eight full years as the grounds superintendent at The Oaks Golf Club, and its predecessor Wyndwicke Country Club in St. Joseph. In fact, even at the age of 89 he was still active in the day to day running of Pipestone Creek until the time of his death over the weekend.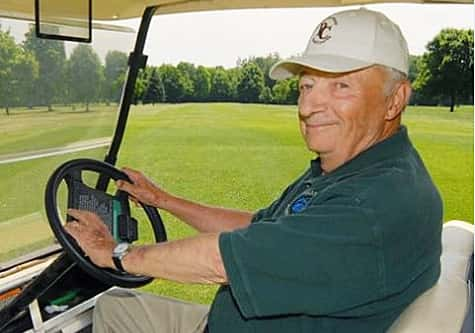 Dustin, whose life will be memorialized in a Celebration of Life Service next Monday, also spent 20 years as golf superintendent at Plym Park Golf Course in Niles after The Oaks closed down. In fact, he was a 50-year member of the Golf Course Superintendents Association of America, headquartered in Lawrence, Kansas, a true Ambassador of the game.
Mr. Dustin, who was a key member of the WSJM Broadcast play-by-play team in several decades of live coverage of the Western Amateur Golf Tournament at the Point O'Woods Golf & Country Club in Benton Harbor died Sunday, December 2, 2018, at his home in Eau Claire near his beloved golf course at the age of 89.
His Celebration of Life Memorial Service will take place at 4 pm next Monday, December 17th, at Starks & Menchinger Chapel & Cremation Services located at 2650 Niles Road in St. Joseph. Memorial contributions may be made to Southwest Michigan Veterans Support Group – Eau Claire. Those wishing to leave online condolences may do so at www. starks-menchinger.com.
Bruce was born on October 14, 1929, in Benton Harbor to LeRoy and Alene (Kinyon) Dustin. He graduated from Benton Harbor High School and then enlisted in the United States Army, where he proudly served his country from 1951-1953. After being honorably discharged from the Army, Bruce and his father LeRoy got to work looking for property to call their own. In 1956 they bought 40 acres in Eau Claire, and in 1958 Bruce and his father opened their own small six-hole course, Pipestone Creek Golf Course.
On March 21, 1959, Bruce married Yvonne "Bonny" Gregg in Benton Harbor. They were married for nearly 58 years before her passing in 2017. With the help of his wife and family, Bruce grew Pipestone Creek Golf Course from six, to nine, to the 18-hole public course that it is today.
On the rare occasion that he wasn't working or golfing, he enjoyed spending time with his friends from high school, watching sports and playing cards at the Elks Club. He was a lifetime member of the Elks Lodge 541.
Bruce is survived by his children: Lori (fiancé, Rick Nelson) of Eau Claire, David (Melissa) Dustin of Eau Claire and Darcy (Mark) Kostrzewa of Walled Lake, and grandchildren: Dustin and Adam Lester, Taylor and Bailey Dustin, Avery and Meredith Green and Evan Kostrzewa.
Bruce was preceded in death by his parents, LeRoy & Alene; wife, Bonny; and sister, Rosemary Raynes.
Bruce Dustin was a gentle giant who dearly loved every aspect of the game of golf and always had a kind word for anyone he crossed paths with. He will be missed by everyone who knew him. His family will keep his spirit alive with continued operation of the popular Pipestone Creek Golf Course, well known as the "everyday man's (and woman's) course" in Michigan's Great Southwest.